Blackline Live Winter18 update
January 23, 2018
Update — Winter18 is now live
With this roll-out comes a host of new features and pages, as well as updates to improve the usability of existing pages. Explore the following articles to learn more about some of the new features.
A new look
The Winter18 update includes a cosmetic re-fresh and enhancements to existing pages, including an updated black navigation bar and some new pages. Some existing page names have changed and the main menu has been organized into Features and Resources.
New pages in the main menu
Visual changes to Blackline Live and new page additions include:
The Device Users page is now called Devices — This page provides an overview of all the devices a Blackline Live user has access to. Information includes device status, check-in reminders, assigned team member, device name and ID, configuration and alert profiles and the related organization.
New, Device details page — From the Device page, users can view an individual device and its details by clicking on the Device Name or Device ID. This page makes it easy to see information related to a single device and make any necessary changes.
Device Configurations page is now Configurations
Alerts Setup is now Alert profiles
The Address Book is now Team members — This page provides a collection of team members within the entire organization. There are now two types of team members. Contacts can be assigned to monitoring devices, or added as an emergency response contact or a notified contact. Account Users can also be assigned to devices and profiles, but are also granted access to log in to Blackline Live.
Beacon Setup is now Beacons
New, Groups page — The Groups page makes it easy to organize devices and provide access of devices to specific Blackline Live users.
Additionally, a black top menu bar has been added and the Menu has been updated, organizing pages into Features and Resources.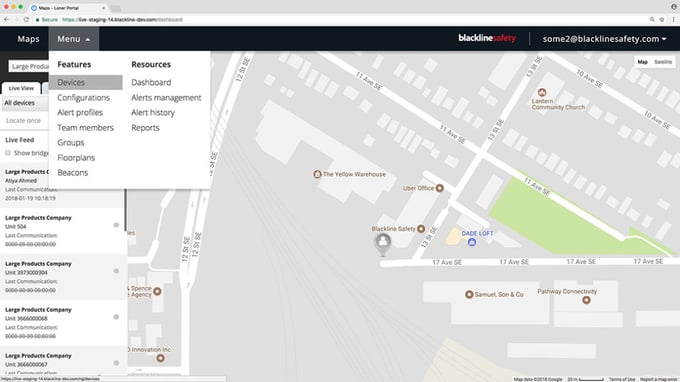 New pages in the user menu
The user menu has also been updated, located at the top-right of the browser window.
Account Settings is now My account settings
Change Password is now Change my password
New, Relationships page — The relationships function links accounts together for businesses who currently use a parent/child multi-account setup. It also accommodates for relationships with service providers, including monitoring partners and Blackline Safety resellers.
New, Organization details page — Provides a brief overview of the organization that is helpful for identifying your business to others when setting up relationships.
New, My team member profile page — Contains contact details of the user currently logged into Blackline Live.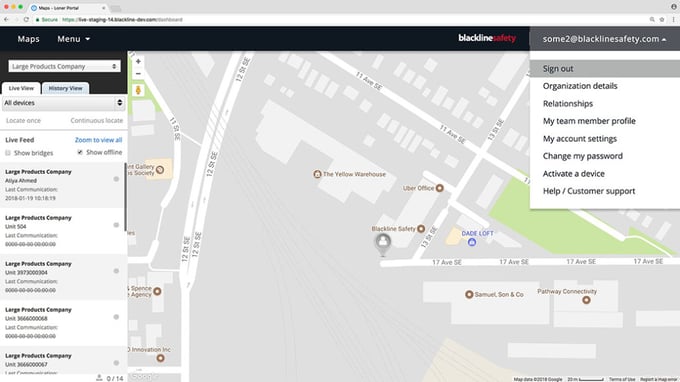 Introducing organizations
Many businesses currently have several Blackline Live accounts, linked together in a parent/child structure to accommodate for various teams and locations. The Winter18 update provides the option to create a single Blackline Live organization, with customized groups and user permissions, to accommodate for separations between business units, sites, locations and teams. The new structure includes a number of hierarchical units within Blackline Live:
Organization — This is the base account that houses all of a business's resources, including devices, beacons, team members, configurations and alert profiles. Devices and resources now belong to an organization instead of individual users. Organizations make it easier to manage company assets across multiple teams or business units.
Team Members — Team members in the organization are configured as Contacts or Account Users. Contacts can be assigned devices and can be assigned to emergency response contact or notified contact in emergency response protocols. Account Users can also be assigned to devices and profiles, but have Blackline Live log-in access, with specified access to Groups.
Groups — Groups contain all or a selection of the organization's devices. One base group (the All Devices group) will always exist in the account and others can be created with custom names. For example, a "Field Technicians, West Coast" group could be created to contain several devices. Account users are granted permissions over the devices assigned to the group. Groups provide businesses with tailored control over who can access devices.
Roles — Roles are assigned on a group-by-group basis, defining how a team member can use the Blackline Live portal and what assets they have access to. The role a user has within a particular group will determine what they can do with that specific selection of devices — one user may be given view-only access for one group but group administration for another group. Each role level has a preset level of access to a group.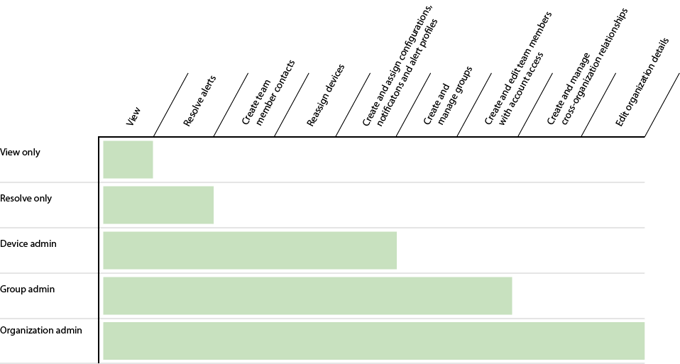 Devices — Devices can be placed into one or more groups. Often, one device will be assigned to only one custom group, such as the "Field Technicians, West Coast" group. By default, each device will also be stored in the All Devices group.
Device Configurations — Device Configurations are un-grouped. Each configuration that is created is available for any device in any group. For example, a "Field Technicians" configuration will be available to any other device in the organization, including the "Field Technicians, West Coast" group or a "Field Technicians, East Cost" group.
Alert Profiles — Alert Profiles are also un-grouped. Each created alert profile is available to all devices.
Beacons — Beacons are un-grouped, meaning all activated beacons are available for every device for accurate location signals, across all business units, sites, locations and teams.
Customization of organizations, groups and roles is managed within Blackline Live. Within the organization, the Team members page allows Contacts to be promoted to Account users who will gain access to their organization within Blackline Live. Groups can be created to allow devices to be accessed by one or more Account users, providing a controlled view of monitoring devices by user. For each group, permissions are specified based upon the level of access granted to each Account User. Some users may have view-only access while others may need the ability to move a device from one group to another.
Businesses with multiple Blackline Live accounts
Once Blackline has launched the Winter18 update, Blackline will work directly with customers wanting to take advantage of the migration to a single Blackline Live organization with individual user access. Follow up with your Blackline Account Manager for further details.
We're here to help
Blackline's Customer Care team is always available to answer questions or assist during the transition to the new Blackline Live. For a full list of new terms, refer to our Winter18 Update Terms document | Download