Devices | Winter18 Update
February 9, 2018
Devices Page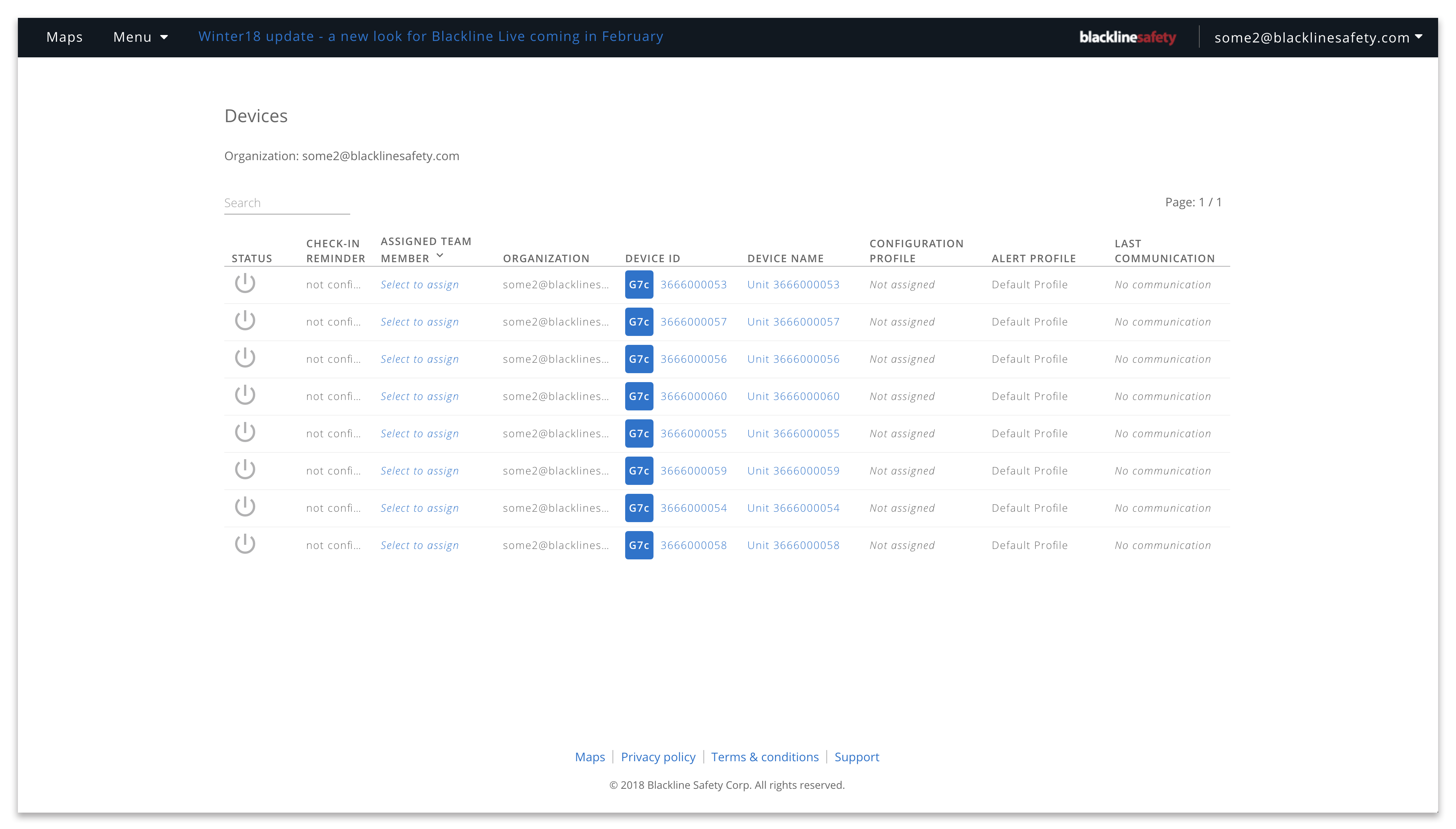 Formerly the device users page, the devices page has received an updated look as well as additional features with the Winter18 update. The following table breaks down the column, what information is displayed, and what happens if you select the information from the column.
| | | |
| --- | --- | --- |
| Column title | Content displayed | Action on Click |
| Status | If the device is online/offline, and if the device is in alert | None |
| Check-in reminder | If enabled displays time until next check-in | None |
| Assigned team member | Displays assigned team member | Edit assigned team member or unassign |
| Organization | Displays organization that the device is located in | None |
| Device ID | Displays device type and ID | Go to device details page |
| Device name | Displays device name | Go to device details page |
| Configuration profile | Displays which configuration profile the device is assigned to | None |
| Alert profile | Displays which alert profile the device is assigned to | None |
| Last communication | Displays last communication the device had with Blackline Live | Go to last known location on map page |
Device Details Page
The device details page is a new addition to Blackline Live, where you can view all information that pertains to a specific device.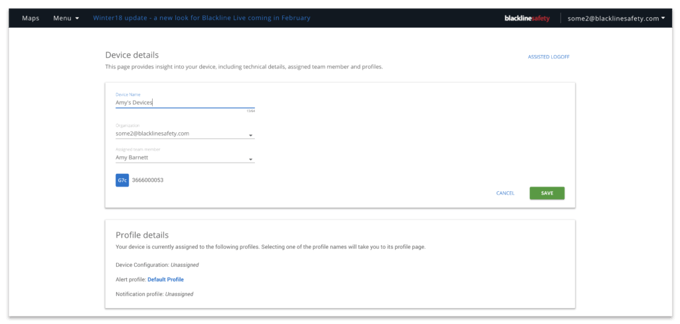 Change device info
Select edit from the top right of the device info card
Here you can edit device name, organization the device is a part of (if you have appropriate permissions) and assigned team member.
Once you have made all necessary changes, select save.
Change device configuration, alert profile or notification profile
Device configuration, alert profile and notification profiles are listed on the device details page. In order to change them, you will need to go to either click the name listed in this card or navigate to the device configuration or alerts setup page from the main menu.
From there, you can edit device configuration, alert and notification profiles, as well as add devices to different profiles.
Change which groups my device is a part of
Groups are also view-only from this page. In order to edit groups and their contents, you will need to go to the groups page — available from the top left drop-down menu.
From the groups page, you can add a new group, edit group managers and add (or remove) device to a group.
We're here to help
Blackline's Customer Care team is always available to answer questions or assist during the transition to the new Blackline Live.
For a full list of new terms, refer to our Winter18 Update Terms document | Download