Barcode scanner recommendations
August 30, 2019
Blackline Live's quick assign page has been designed to be used with a standard barcode scanner. The page will allow you to quickly assign Blackline devices to team members by typing or scanning in the device name or ID, followed by the team member name or ID.

When choosing a barcode scanner to use with Blackline Live, we recommend one that meets the following criteria, which will be explained in more detail:
Handheld and portable
USB or Bluetooth connectivity
Ability to scan 1D and 2D barcodes
Programmed with a CR ("enter") shortcut
Handheld and portable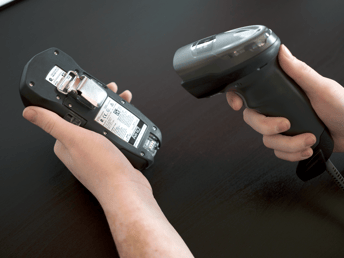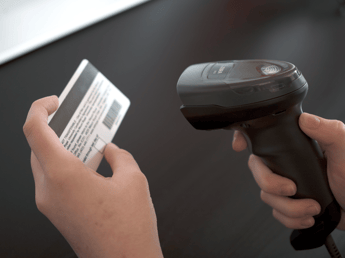 Handheld "point and shoot" scanners are the easiest to use when scanning codes into Blackline Live. This design gives you the most flexibility in scanning codes on both the devices and the device users. They are also easy to move around if you need to move locations or set up somewhere temporarily.
USB Connectivity
Ensure your barcode scanner can be connected to the device that is hosting Blackline Live — the most common set-up is a computer and either a USB-connected or Bluetooth-connected scanner.

Plugging a USB-connected scanner into the computer will allow you to instantly use the scanner in place of a keyboard — there is no additional downloads or drivers required. Once you see the LED light on the scanner light up, and hear a start-up sequence sound from the scanner, you will know it is ready to be used.
Bluetooth connectivity
Some handheld scanners have Bluetooth compatibility, which allows the device to be used without restrictions on range or movement. Different Bluetooth scanners may have different set-up requirements, so be sure to follow the instructions that come with your scanner. The scanner should give a visual or audible indication of when it has successfully paired to your device.
Ability to scan 1D and 2D barcodes
| | |
| --- | --- |
| 1D barcodes are the most common kind — a row of parallel black and white lines. Barcodes scanners are typically pre-programmed to read the most common types of 1D barcodes, and some can be programmed to read more uncommon codes. | 2D barcodes are squares or rectangles, made of up patterns of black and white square dots. You're probably familiar with QR codes, which are a common type of 2D barcode. |
We recommend handheld scanners can read both 1D and 2D barcodes, since they provide the most flexibility in accommodating different systems. The code on the back of our devices is a 2D barcode — older scanners that cannot read these codes will not be able to scan our devices straight from the label.
Programmed with CR ("enter") Shortcut
Barcode scanners can be programmed to behave differently by scanning different setting codes. Each barcode scanner should come with a manual that contains dozens of codes that can change how the scanner operates.

By default, most handheld barcode scanners are programmed with a shortcut that adds a CR or "enter" command after it scans a code. If this shortcut is not already programmed into your barcode scanner, there should be a code for this feature in the scanner's manual.
Blackline Live's quick assign page is designed with the CR command in mind — you will notice that the page only contains two fields, and no "submit" or "assign" button. As long as you have the CR shortcut enabled on your scanner, you will be able to scan devices and team members — as well as submit the assignments — without using the keyboard or mouse at all. The page will reload after each submission and highlight the device field so that you can immediately start scanning your next assignment.