Transferring gas out exhaust
January 10, 2019
When looking at the back of G7 Dock, the gas out exhaust is the connector on the far left side of the dock. It is used to transfer calibration gas to a safe exhaust location. The gas concentrations used in G7 Dock for bump and calibration of G7 are below toxic levels, meaning your gas out exhaust is safe to vent into a room where employees are working. However, some gasses with an odour (such as H2S) may want to be vented out of a space. G7 Dock's gas out exhaust is a pumped exhaust port, which allows a standard gas tubing to be connected with a female quick connect to help remove gas from the area. Due to the port being assisted by a pump, tubing can be up to 100 feet (30.48 m), however Blackline recommends only using as much tubing as necessary to get to your exhaust location.
Female quick connect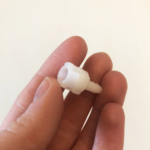 Male quick connect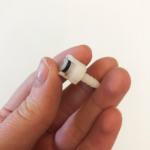 ---
To transfer calibration gas to a safe exhaust location, you will need:
G7 Dock
Female quick connect (a quick connect with no black ring)
Tubing (up to 100 feet)
To attach tubing to your gas out exhaust:
1. Insert the female quick connect into the tubing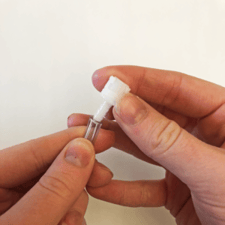 2. Attach the quick connect to the gas out exhaust inlet by connecting both quick-connect ends and twisting clockwise until it clicks securely into place. NOTE: You should never plug gas into the Gas Out exhaust.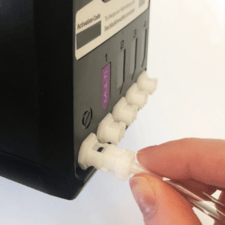 3. Feed the open end of the tubing (not attached to dock) to your safe exhaust location. This could be out a window, or up a vent.
---
If you have questions about gas out exhaust, G7 Dock or otherwise, don't hesitate to contact our Customer Care team.