This newest version of Loner Mobile for Android and iOS brings you an important new feature: push notifications. When push notifications are turned on, Loner Mobile will be able to send you updates even while the app is closed.
What is the advantage of having push notifications turned on?
With push notifications enabled, Loner Mobile will be able to send you updates and messages even while the app is closed. This is particularly helpful if there is something on the app that needs your attention, or if the app closes prematurely, meaning you are no longer being monitored.

NOTE: Previously, Loner Mobile experienced minor issues when iOS 12.0 would cause apps running in the background to close unexpectedly. We would like to inform our customers that while this does not happen often (less than 3% of the time), having push notifications enabled creates another layer of security to ensure your safety is being monitored.
How to enable push notifications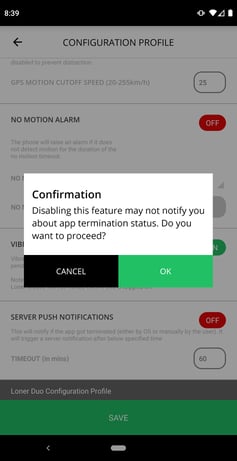 Once you have downloaded the newest build of Loner Mobile, you will be prompted to enable push notifications with a pop-up.
If the initial prompt is dismissed, you can always turn on push notifications from within the Loner Mobile app. Select "Settings" and then "Configuration." The "server push notifications" toggle can be turned on to enable the feature. Additionally, you can configure the amount of time you would like to elapse before you are notified.
---
Questions about Loner Mobile version 1.9.8.5 or otherwise? Don't hesitate to contact our Customer Care team.