Updated May 20, 2021
EXO's global firmware version 3.450R1 is coming soon! It will be made available in late May or early June of 2021.
This firmware version includes some exciting new features:
Scroll down this page to read more about each feature, or select a specific feature from the list to jump there automatically.
PUMP MODULE SUPPORT
EXO support for the pump module has been refined in this firmware version. If EXO experiences a problem or needs a firmware upgrade and needs to power cycle itself, EXO will remember which inlets were on and will return to the state it was in before it power cycled. This helps ensure that EXO works consistently when it has to restart itself unexpectedly.
In addition, EXO will now have a buffer time of five seconds before a pump block alarm is triggered on the device. Flow rate can take a few seconds to ramp up when the pump is first turned on, so this buffer time will ensure EXO does not prematurely go into alarm before the flow rate has stabilized.
SATELLITE MODULE SUPPORT
This firmware version can support the EXO satellite module, so that EXO can be used in remote areas without cellular coverage.
When the satellite module is installed, you will see a new option in the main menu called "Communication", where you will be able to select between cellular and satellite communication.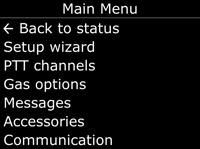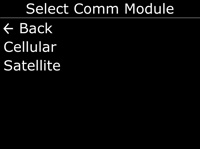 When EXO is communicating via satellite, it's network connection timeout is extended to three hours, since it may not communicate with Blackline Live for over two hours at a time. Please keep in mind that EXO will not be able to support two-way voice calls or use PTT while it is communicating via satellite.
IMPROVED GPS LOCATIONS
This firmware version also included upgrades to the GPS location on EXO to provide even more accurate tracking of devices.
GENERAL BUG FIXES
EXO low battery now has an audible/visible alarm, hardcoded to trigger at 3% battery life remaining. In the next firmware version, the low battery threshold will be configurable.
Fixed an issue where disabling manual bump, calibration and zero did not work properly
Fixed an issue where the battery charging icon disappeared after receiving a new EXO configuration
---
Have questions about the 3.450 firmware update, G7 products or otherwise? Contact our Customer Care team.