G7's global firmware version 3.445R1 is coming soon!
This firmware version includes some new features and enhanced optimization for data collection, listed below. Due to changes in how data is stored on the device, this firmware update will look slightly different from other updates, and will take longer to download.
Scroll down this page to read more about each feature, or select a specific feature from the list to jump there automatically.
Firmware 3.445 installation
Because this firmware update includes changes to how G7 stores data, it will take longer for the installation to be completed. Once the device connects to the Blackline Safety Cloud and the green light turns solid, the device will automatically power back down. The usual blue and yellow lights on the right side of the LCD screen will flash for about 30-60 seconds to let you know the new firmware version is being installed. The screen will be blank and unresponsive for a few more seconds before you hear a single beep and see blue and red lights flashing on the right side of the device, first very rapidly and then intermittently — this part of the firmware installation process is specific to this firmware version, and can take up to three minutes to complete. Once the firmware is installed, the device will startup automatically.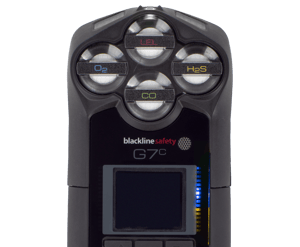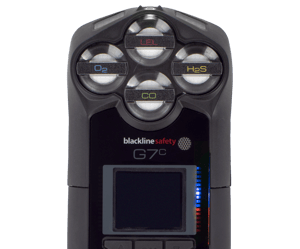 LEL-MPS sensor
If your devices are equipped with our LEL-MPS sensor, you will need to power cycle your device following the firmware update. This is because the new firmware update includes a flash format change, which will cause a temporary sensor failure. Once the update has finished downloading, your device will prompt you to power cycle it. Once the device is power cycled, the LEL-MPS sensor will be ready to use.
Close Contact Detection on G7
In addition to Blackline Safety's close contact reporting in Blackline Analytics and the close contact detection on Blackline Connect, we have developed a feature to more efficiently enforce physical social distancing. While the close contact reports are valuable in tracking the effectiveness of new processes and policies, and allows for retroactive contact tracing and investigation, it does not help to remind workers of physical distancing in the moment a policy violation may be occurring.
The close contact detection feature on G7 informs the wearer that they are within two meters of another device with a vibration pattern and message that persists for 10 seconds. To learn more about this feature, see this support article.
Blackline has also made changes in regards to bluetooth support and storing data in order to enhance our contact tracing capabilities.

Defaults for LEL Latching
The LEL latching feature released in the previous firmware 3.441 version has been enhanced with new defaults that match the registration of particular regions.
G7 portable devices shipped to North American customers will have the LEL latching feature enabled by default as per CSA certification requirements. This means that LEL high gas alarms must be muted manually by the person using the device by holding the up and down arrows for three seconds.
G7 portable devices shipped outside of North America will have the LEL latching feature disabled by default, meaning LEL high gas alarms will stop automatically once combustible gas levels dip below the configured alarm threshold.
G7 EXO will always be shipped with the LEL latching feature disable by default.


LEL latching settings can be changed from the device interface if required. See this support article to learn more.
Power down out of connectivity warning
Starting with this version of firmware, G7 devices with the check-in feature enabled will now warn a user that attempts to power it down while it is not connected to the Blackline Safety Cloud. Powering down while disconnected is the number one reason for false missed check-in alerts, so it should be avoided whenever possible.

When a device user presses the power button while the green light is flashing, a message will appear on G7's LCD screen warning the user that powering down may result in a missed check-in alert.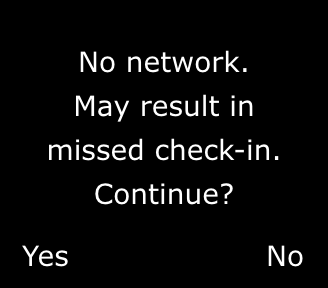 The user can always dismiss this message and continue shutting down the device if necessary. If the device is powered down out of connectivity, Blackline recommends navigating to the device's details page on Blackline Live and selecting "Assisted logoff" in the top-right corner of the page. This will force the device to go offline in the portal and stop the check-in timer on the server side.
---
Have questions about the 3.445 firmware update, G7 products or otherwise? Contact our Customer Care team.