Loner Mobile's newest update is now available from your iPhone or Android's corresponding app store. This update includes some cool new additions as well as updates to existing features. Check out the details below:
VIBRATE AFTER SILENT SOS IS RECEIVED
This new configuration feature allows you to enable a vibration from your phone when your silent SOS alert has been received. When enabled, and you send a silent SOS alert by pressing and holding the SOS slider, triple pressing SOS button or pressing and holding Duo's latch, your phone will vibrate three times to let you know that your alert has been received by the Blackline Live portal, and monitoring personnel will be checking to see if you are OK.
To use this feature, ensure that it is enabled from your configuration profile in Loner Mobile, and that your smartphone's vibration is on.
The addition of this feature allows Blackline to maintain their BS8484 status based on the newest regulations.
CONFIGURATION PROFILE VALIDATION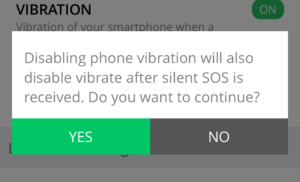 Loner Mobile's configuration page now features validation to help you understand how other configuration profile settings may be affected when linked settings are enabled or disabled.
When enabling or disabling a configuration setting, if it is linked to another setting that will be affected Loner Mobile will show you a pop up with details. From this pop up you can continue with your change, or cancel your changes. Affected settings will be adjusted automatically by Loner Mobile.
CHANGES TO APP LANGUAGE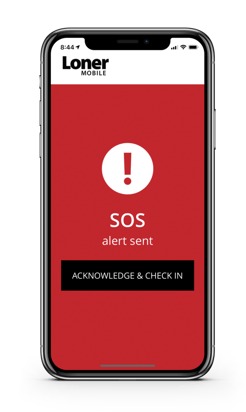 Loner Mobile's language around a couple alerts has been updated to be more consistent with the Blackline brand. You will notice this change with two alerts:
- Emergency alerts are now referred to as SOS alerts
- Silent emergency alerts are now referred to as Silent SOS alerts
This does not change the functionality of the alert, only what the alert is called.
---
For iOS users, please be aware that the iOS 12.0 issue is still ongoing. For more details regarding this issue, please refer to this article.
---
If you have questions about this update, Loner Mobile, or any other inquiries don't hesitate to reach out to our Customer Care team.