About this update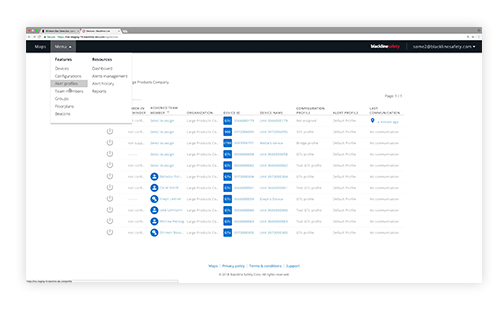 Our Winter18 update article provides more information about this update that includes a new look and the option to centralize customer operations into a single Blackline Live account.
Deploying February 9, 2018
The date has been set — our Winter18 update for Blackline Live will be deployed on February 9, 2018 (see below for schedule details). We selected this time to minimize the impact to customer operations, selecting a time where device usage is at a minimum.
We have scheduled a two-hour overall window and expect actual downtime to be no more than one hours. This will provide our teams sufficient time to manage the Winter18 deployment to the Blackline Safety Network and our Blackline Live monitoring portal website.
Preparing for this update
We have designed the deployment of Winter18 to minimize the impact to client operations. To prepare for this update, we recommend that you plan for a secondary monitoring process for any employees working during the maintenance window. Such alternate monitoring processes could include phone/radio call-ins or employee spot checks.
What to expect during maintenance — device users
All devices being used during the maintenance window will experience a service interruption. During the outage, devices being used will disconnect from the Blackline Safety Network — the green SureSafe® light will change from a solid green light to a flashing green light. This confirms to the employee that his or her safety is not being monitored by the safety device at that time. When the maintenance window is complete and services are re-established, your employee's device will automatically connect to the Blackline Safety Network. The green SureSafe light will change from flashing to staying on continuously, confirming the active safety monitoring status.
What to expect during maintenance — monitoring teams
During the maintenance window, the Blackline Live website will be unresponsive and no safety alerts will be delivered through email or text message. Two-way voice calling and messaging to the employee (G7 devices) will also be unavailable. When the deployment is complete, any personnel in your team who uses Blackline Live will simply need to refresh the website within their internet browser and log into their Blackline Live account to resume monitoring.
Email updates
The Blackline Safety team will be sending email updates to Blackline Live account users as the Winter18 deployment approaches, at the start of the update and upon completion.
Maintenance window details
Scheduled start: Feb 9, 2018 — 21:00 MST (04:00 GMT Feb 10)
Scheduled completion: Feb 9, 2018 — 23:00 MST (06:00 GMT Feb 10)
Overall maintenance window duration: 2 hours
Anticipated services outage: 1 hour (no device communications)
Status: No expected delay to start of maintenance window
Affected services
Blackline Safety Network
Blackline Live web portal and alert management workflow
Delivery of alerts via email and text message
Connect API and Push Notification Service
G7 device messaging
G7c voice calling
Contact Us
If you have any questions regarding this service outage, please feel free to contact Blackline's Customer Care team
Email: support@blacklinesafety.com