Manually bump testing G7 with multiple gas cylinders
April 30, 2019
In the case that you do not have one gas cylinder containing the entire gas mix to bump test your G7 device, multiple cylinders can be used to bump test different sensors.
To bump test G7 with multiple cylinders:
1. Press G7's OK button to enter the main menu
2. Use the up and down arrows to navigate to gas options and press OK
3. Use the up and down arrows to navigate to bump test and press OK
4. Select yes to continue with the bump test
5. G7 will do a self test of its lights, sounds, vibration and ambient noise
6. From the list that appears, unselect the sensors not contained in the mix of your first gas cylinder
7. Select start bump
8. Apply the gas mixture when G7 prompts you on the screen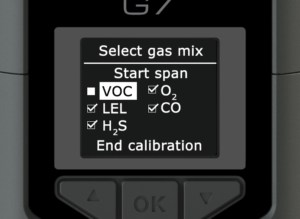 9. When G7 is finished bump testing your selected sensors, the sensors you previously unselected will appear on the screen. Either unselect sensors again to match your next gas mix, or if your next gas mixture contains all of the required gases, select start bump. You will repeat this step until all sensors have been bump tested.
10. Turn your gas off and press OK when G7 prompts you
11. G7 will review your bump test results, and display your next due dates
If you require technical support on bump testing, G7 or otherwise, please contact our Customer Care team.